The Rough Water Warriors are a ski show team that likes to travel! Each year you can find us performing on Pomona Lake as well as other lakes throughout our region. In 2017 our shows are scheduled at 6:00 p.m. on Saturday nights at our homesite Pine Ridge. Pine Ridge is on the very South West side of Pomona. See our map for directions. If coming by boat anchor on the north side of our show site for best viewing
LadderBarefoot from Rough Water Warriors on Vimeo.
We incorporate many different types of acts for the whole family. For the ladies, we offer a ballet line, swivel skiing and as much pyramid climbing as you would like to attempt! For the more adventurous, you can join the men on the barefoot passes or take flight over our jump! We offer kneeboards and wakeboard acts for the kids. Both moms and dads can be found behind the wheel of the boat or riding in the jump seat, ready to spot a fallen skier.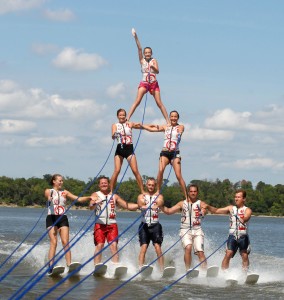 Each year we like to up our game and try new tricks never seen before on our lake! Over the past few summers we have added multiple skiers circling around the boat in different directions, a WOW act that involves 2 boats and at least 3 skiers and most impressively – a tandem act off the dock where skiers are tethered to each other with ski ropes.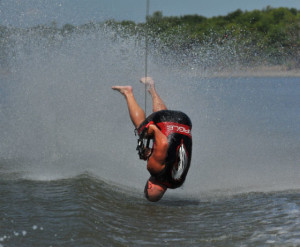 If you would like to learn how to ski or perform in a ski show, all you have to do is show up! We offer training each week before practice on "dryland" before we ever take you out to the water. Don't know how to ski? No problem! We will teach you! But be warned…once you start, you may not want to quit!
Be sure to contact us for more information, or to join us for our next practice!
If you or your company have an event that you would like us to preform at, here's a rough idea what you can expect from us. Our shows generally run about an hour but can be tailored too meet your needs. Our club will bring all the boats, a portable dock, equipment, and sound system. We have our own insurance whenever we preform. Call Mark for more information 785-806-4436